BIOGRAPHY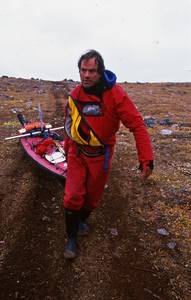 Jon found his calling as a writer while shooting photographs on expeditions more than four decades ago. Drawn to the physical challenge and peace he felt in the natural world, he continually fell short explaining this allure to others. The necessity of being fully present in the outdoors to witness beauty, and then to preserve the natural world, became essential to Jon. So he turned to writing to explain both adventure and conservation.
He has also shot and written television films, including "The Logan Challenge," "Surviving Denali," "Odyssey Among the Inuit," "ANWR Trek," and "Chasing Water."
Jon is mostly known for his Northern explorations, detailed in many of his books and countless journals since 1978. Beginning in 2007, the rivers of the Southwest began to call, with an extended journey and National Geographic Society research projects. For two ambitious water and river conservation expeditions, he lectured extensively, produced a comprehensive river map and a photography exhibit, then published two books, Running Dry and The Colorado River.
Jon is grateful for support and repeated funding from the National Geographic, two grants from the Walton Family Foundation, and grants from the Storer Foundation, SavetheColorado.org, the Kenney Brothers Foundation, New Belgium Brewing, Patagonia, and the Campion Foundation. He has two sons and lives in Carbondale, Colorado.
Awards
Three Banff Festival "Best Book Adventure Travel" titles (Kayaking the Vermilion Sea 1995, Arctic Crossing 2001, Running Dry 2010)
Sigurd Olson Nature Writing Award 2005 (Where Mountains Are Nameless, W.W. Norton)
NEA Literary Fellowship 2004 (Arctic Crossing, Knopf )
Colorado State Council of the Arts Literary Award, 2003
The American Alpine Club Literary Award 1996 (Surviving Denali book, 1983)
The National Park Service Special Achievement Award 1984 (rescue work )