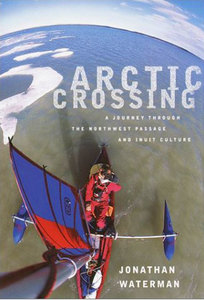 The Arctic―with its twenty-four-hour daylight, surprisingly curious animals and inexplicable humming noises―is a world of constant danger and limitless possibility. This unforgiving landscape is home to the Inuit (the name they prefer to "Eskimos"), whose complex and little-studied society is fascinating in its divergence from as well as its assimilation into Western culture.
Jonathan Waterman's 2,200-mile journey across the roof of North America took him through Inuit communities in Alaska to Nunavut, Canada's new, 770,000-square-mile, self-governed territory. His story, at once illuminating and alarming, offers firsthand observations of their life, language and beliefs; records their reactions to global modernization; documents their centuries of unjust treatment at the hands of Kabloona (bushy-eyebrowed whites); and witnesses unemployment, teen suicide and such persistent plagues as spousal violence and substance abuse. From the perspective of his 1997–1999 voyage―as the Inuit stand on the brink of a more hopeful, independent future―he also looks into a past marked by famous (or infamous) Arctic explorers, government cover-ups and environmental destruction.
This beautifully written work of intrepid reporting and even scholarship also reveals the physical risks and psychological perils of crossing the legendary Northwest Passage. Utterly alone for weeks at a time, Waterman struggles against freezing conditions, the tricks played on him by his own mind and dangers more complex than aggressive bears, stormy seas and mosquito blizzards. Following the advice of an Inuit shaman, who said that "those things hidden from others" are discovered only "far from the dwellings of men, through privation and suffering," Waterman kayaks, skis, dogsleds and sails across the Great Solitudes in a thrilling and ultimately successful quest for this "true wisdom," arriving at a profound understanding of environment and culture.
Arctic Crossing Author Interview
"Sheer poetry"—Sea Kayaker Magazine

" Arctic Crossing is a complex and rewarding book, evocative and thought-provoking." —Jon Turk, Paddler Magazine

"Vividly portrays the arctic landscape, people, weather and wildlife [with] candid observations of culture."—Publishers Weekly

"Arctic Crossing is the most eloquent book about the North I've read in years — likewise, for my money, the most honest. Jon Waterman is an explorer cut from the classic cloth and, what's more, a terrific writer."— Lawrence Millman, author of Last Places and Northern Latitudes
Where Mountains Are Nameless
Passion and Politics in the Arctic National Wildlife Refuge
The remote, northeastern corner of Alaska is home to the Arctic National Wildlife Refuge, which politicians call ANWR, a nineteen-million-acre wilderness that may contain as much as 16 billion barrels of crude oil. Conservationists and developers have fought bitterly over the land for the last half-century, an era in which petroleum has virtually come to define Alaska. Struggling to combat the big-money politics that threaten the region, the conservation efforts of one couple, Olaus and Mardy Murie, made them legendary.
Jonathan Waterman's 2004 book, Where Mountains Are Nameless: Passion and Politics in the Arctic National Wildlife Refuge, blends historical narrative with vivid tales of his journeys into the Arctic Refuge wilderness, creating a tension between past and present, science and politics, reflection and investigation.
Since 1983, he has taken eighteen trips into the far North, and spent over two hundred days in and around the embattled Arctic Refuge. While paddling or trekking cross-country, Waterman encounters howling wolves, British Petroleum workers, Inupiat hunters, and the oil-ravaged Prince William Sound.
Where Mountains Are Nameless: Passion and Politics in the Arctic National Wildlife Refugeexplores how the hunt for oil has choked Alaska's pristine wilderness and also traces the lives of the celebrated Muries, who spearheaded establishment of the original wildlife range. This memorable portrait makes the stakes over the Arctic Refuge vividly clear.
Media/Published Stories
Where Mountains Are Nameless review
NPR Radio Expeditions - "50 Years On, a Passion for the Wild Endures"
For more information visit: Alaska Wilderness League Take Action.
How to book a presentation with Jon Waterman.